---

The Journal Veterinarski Glasnik is devoted to the advancement and dissemination of scientific knowledge concerning veterinary sciences and related academic disciplines. Veterinarski Glasnik is open access, peer-reviewed scientific journal published by the University of Belgrade, Faculty of Veterinary Medicine - in yearly volumes comprising two issues. The Journal Veterinarski Glasnik does not charge any fees at submission, reviewing, or production stages. All articles can be downloaded free of charge and used in accordance with the Creative Commons Attribution 4.0 License (CC BY 4.0). 
We recommend that you review the About the Journal page for the journal's policies, publication ethics and malpractice statement. Please see Author Guidelines for information on article submission.
Registration and/or login are required to submit items online and to check the status of current submissions. If you are not registered with this site, you need to fill in and submit the form available on the Registration Page. If you already have a username and password, continue to the Login Page. 
---
2023-06-17
CiteScore 2022 of the journal Veterinarski Glasnik is 0.9.
Vol. 77 No. 1 (2023): Veterinarski Glasnik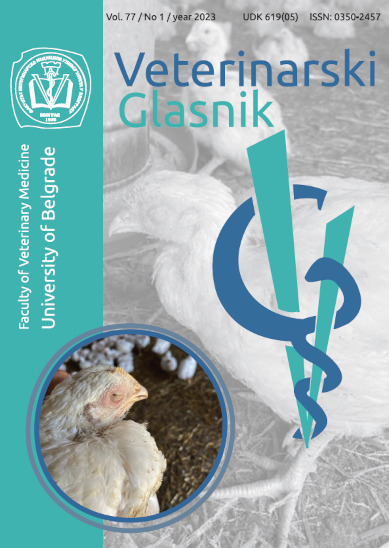 The cover image, by Mernizi et al., is based on the Article
First seroepidemiological and risk factor survey of avian metapneumovirus circulation in Moroccan broiler farms
Published: 2023-05-23
View All Issues